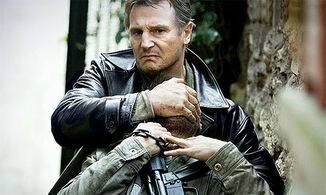 This is an article detailing the trivia around the first film in the series, Taken.
The curved knife used in the final fight is a karambit. It's an Indonesian /Malaysian weapon and the finger hole in the handle makes it very difficult to disarm, which was evident in the fight scene.
According to Liam Neeson, he agreed to take this role because he believed that the film was going to be a straight-to-DVD release.
Former Special Air Service (SAS) soldier Mick Gould trained Liam Neeson in combatives and weapons handling skills to prepare him for the role.
The martial art style used by Liam Neeson is Nagasu Do. It's a hybrid martial art style that borrows from Judo, Aikido and Ju Jitsu. 
Before any action takes place, Bryan already has scratches to the left side of his face, hinting at his "spare time" activities.
Bryan Mills mentions that he was a "preventer" for the CIA. A preventer is really a Special Activities Division agent.
Taken turned Liam Neeson into an action star.
In both films, Bryan mills wears a black leather trenchcoat and jeans.
In both films, Bryan's weapon of choice is a Beretta 92FS.
Doing this film propelled Famke Janssen to take action in the real fight against corruption. She now serves as the Goodwill Ambassador for the United Nations Office against Drugs and Crime.
In the film, Katie Cassidy's character (Amanda) is 19 years old and Maggie Grace's character (Kim) is 17 years old. In real life, Maggie is 3 years older than Katie.
The singer's name in the movie is Sheerah. In Hebrew, shirah is the feminine form of the word meaning "sing".
All of Liam Neeson's character's ex-agency friends were played by actors who had previous roles in 'spy' or 'cop thriller' television shows and movies - Jon Gries played a major role in The Pretender (1996), Leland Orser was in both The Pretender (1996) and 24 (2001), and David Warshofsky has appeared in minor roles in numerous similar shows.
Taken was a surprise hit that got two sequels. Liam Neeson thought it would flop.
Over the course of the movie, Bryan kills 32 people in order to get to his daughter.
Near the end, Bryan jumps off of the "Pont des Arts," a pedestrian-only bridge in Paris. In the scene, the bridge is desolate, whereas most nights people flock there to socialize, drink wine, and play the guitar.