Taken

Theatrical poster
Directed by
Pierre Morel
Produced by
Luc Besson
Written by
Luc Besson
Robert Mark Kamen
Starring
Liam Neeson
Music by
Nathaniel Mechaly
Cinematography
Michel Abramowicz
Editing by
Frédéric Thoraval
Distributed by
20th Century Fox
(International)
EuropaCorp
(France)
Release date(s)
February 27, 2008 (France)
September 28, 2008
(United Kingdom)
January 30, 2009 (United States)
Running time
91 minutes
Country
France
Language
English
French
Albanian
Arabic
Budget
€19,000,000
approx. $26,500,000
Gross revenue
$226,830,568
Followed by
Taken 2
Taken is a 2008 French action thriller film produced by Luc Besson, starring Liam Neeson, Maggie Grace and Famke Janssen. The screenplay was written by Besson and Robert Mark Kamen, and directed by Pierre Morel. Neeson plays a former Central Intelligence Agency (CIA) operative who sets about tracking down his daughter after she is kidnapped by human traffickers while traveling in France.
The film was released to negative reviews and has since become a cult film. Numerous media outlets have cited the film as a turning point in Neeson's career that redefined and transformed him to an action film star
Highly-skilled CIA field agent Bryan Mills has retired to try to build a closer relationship with his daughter, Kim. His frequent absences and traveling made him a distant father and led to the divorce of his now-ex-wife, Leonore. Knowing Kim wants to be a singer, Bryan buys her an expensive karaoke machine for her birthday, only to be upstaged by her wealthy stepfather Stuart's gift of a horse.
Bryan's former colleague, Sam, hires him to help provide concert security for Kim's favorite pop singer Sheerah. Backstage, Bryan tells Sheerah about his daughter's ambition, but is brushed off by her. After the concert, when a mob of fans burst through an unlocked gate, Bryan saves Sheerah from a knife-wielding assailant and takes her away to her mansion. She then gratefully offers to help Kim as a thank you for saving her life.
The next day, Bryan has lunch with Kim and Lenore who has come with her, upsetting Bryan's plan to spend time with Kim. He soon learns that Lenore has come to convince Bryan to allow Kim to travel to Paris with her friend, Amanda, to explore art museums. Bryan is reluctant, as he knows how dangerous it can be in foreign countries when you are alone. However, in the end, Lenore manages to persuade him. Bryan gives Kim a set of rules, such as giving him her phone number and address. However, at the airport, Bryan discovers that the girls actually intend to follow U2's Vertigo Tour around Europe. Lenore tells him that she knew about the concert, and that he needs to let her go.
Upon arriving in Paris, Kim and Amanda meet Peter, a handsome stranger who offers to take their picture. He invites them to a party. Kim is reluctant, but Amanda pressures Kim into saying yes. They agree to the party and Peter learns where they are staying when he asks them where to pick them up. As soon as they leave, he discreetly calls some men and informs them of the girls' whereabouts.
In the evening, Bryan calls Kim. While they are talking, she sees several men enter the apartment and abduct Amanda. Bryan starts recording the call and tells Kim to find a safe hiding space and yell out any information of the abductors if she is taken, to which she complies by hiding under a bed. As Kim is grabbed by one of the men, she shouts a description. Bryan realizes that someone has picked up the phone and informs the listener of his very specific set of skills and says if they let Kim go, he will not pursue them, but if they do not, "I will look for you, I will find you and I will kill you". The listener replies "Good luck" and then destroys the phone. Bryan then sends Sam the recording for analysis.
Sam later informs Bryan and Lenore that the kidnappers are members of the Albanian Mafia, who specialize in kidnapping teenagers to sell them into sexual slavery, and identifies the listener as Marko Hoxha. Bryan and Lenore are told that if Kim is not rescued within 96 hours (or 4 days), she will likely never be found again. Bryan flies to Paris that evening using Stuart's connection with a private jet company. After landing in Paris, Bryan breaks into the apartment. He finds a reflection of Peter in a photograph recorded on the memory card of Kim's cellphone and returns to the airport where he finds Peter charming another potential victim. Attacking and brutally beating Peter, he is attacked by Peter's colleague. While defeating him in a brutal fight, Peter escapes he then chases Peter who jumps from the overpass only to be killed by a passing truck.
Bryan seeks help from an old friend, Jean-Claude, a bureaucrat and former field agent, now within French intelligence. Jean-Claude tells Bryan where to start looking, but warns him not to make trouble. He meets an Albanian businessman who is a translator and later converses with a hooker only to be intimidated by her boss whom Bryan plants a listening device on the back of his collar. With the translator's help, the trail leads to a makeshift brothel at a construction site. He recognizes Kim's jacket on a girl there and takes her with him, killing several guards including the boss of the hooker he met earlier. Jean-Claude calls for a meeting in an open place and Bryan speaks to him through a radio from the Notre Dame de Paris. Jean Claude's boss is angry about the mess Bryan has made and wants to send him back to the U.S, which Bryan angrily refuses, saying that he will not stop until he finds his daughter.
Back at a hotel, the girl recovers and gives Bryan the address where she met Kim. At the site, he bluffs his way in pretending to be a corrupt police officer looking for a bribe. After a short conversation regarding a renegotiation of the police protection rate, Bryan identifies Marko Hoxha. He knocks him out and kills all the other criminals. Searching the house, he finds several captives and Amanda, dead of an overdose. Enraged at what he has seen, Bryan then tortures Marko by using a makeshift electric chair in the basement. Although originally spitting in Bryan's face (twice) Marko then desperately tells him that because Kim is a virgin, she was sold to a man named Patrice Saint-Clair, because virgins are very valuable at the black market. Satisfied that Marko has told him all he knows, Bryan switches the power back on and walks out, leaving Marko to die.
Bryan then turns up unexpectedly to dinner with Jean-Claude and his wife, where he discovers that Jean-Claude knows things that he is not telling him. Jean-Claude attempts to shoot Bryan, but Bryan has unloaded Jean-Claude's pistol. Bryan then shoots Jean-Claude's wife in the shoulder, and threatens to kill her if Jean-Claude does not tell him where to find Saint-Clair. Bryan leaves the scene and goes to Saint-Clair's mansion, using Jean-Claude's card as an ID. He disables several guards to get downstairs where he finds a secret slave auction in progress. Kim is the last to be sold. Bryan forces an Arab bidder at gunpoint to buy her, but is immediately caught. When Saint-Clair learns who he is, he orders his men to kill him, but Bryan overcomes his captors and then tortures Saint-Clair into revealing a yacht where the girls are taken to. Saint-Clair pleads "It wasn't personal", but Bryan angrily replies "It was all personal to me" and mercilessly murders him.
Bryan leaves the mansion, where he spots Kim getting into a car. He follows the car and then jumps onto a yacht where Kim has been taken. He dispatches all the henchmen including the Arab bidder. Badly injured he then enters a bedroom to find the buyer holding Kim at knife point. The buyer attempts to bargain but Bryan murders him and rescues Kim.
Back in Los Angeles, Bryan reunites Kim with Lenore and Stuart who make it clear to Bryan that he now has their respect. Later, Bryan surprises Kim by taking her to see Sheerah for a personal singing lesson.
Reception
Edit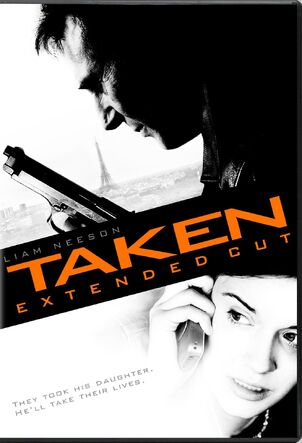 Taken received mixed to positive reviews from critics. Rotten Tomatoes gave the film a "rotten" score of 58% based on reviews from 168 critics and reports a rating average of 5.8 out of 10, with the reported consensus: "Taken is undeniably fun with slick action, but is largely a brainless exercise." At Metacritic, which assigns a weighted average score out of 100 to reviews from mainstream critics, the film received an average score of 50 based on 31 reviews, indicating "mixed or average reviews".
Time said the film "has nothing more on its mind than dozens of bad guys getting beat up and another one turned into instant roadkill." The Washington Post described the film as "a satisfying little thriller as grimly professional as its efficient hero" and likened the action to the Jason Bourne series. Variety described the film as a "kick ass, pedal-to-the-metal actioner [...] that wisely doesn't give the viewer any time to ponder the string of unlikely coincidences [...] the film has the forward, devil-may-care momentum of a Bond film on steroids."
The Los Angeles Times described "the premise of 'Taken,' a brisk and violent action programmer that can't help being unintentionally silly at times [...] Obviously, 'Taken' is not the kind of action film to spend much time worrying about its pedestrian script or largely indifferent acting, so it's fortunate to have Neeson in the starring role." Bryan Mills is characterized as "relentless attack machine who is impervious to fists, bullets and fast-moving cars, he uses a variety of martial skills to knock out more opponents than Mike Tyson and casually kill those he doesn't KO".
Box Office
Edit
On its opening day in the United States, the film grossed $9.4 million, scoring the best opening day ever for Super Bowl weekend. It went on to make $24.7 million during its opening weekend, which was the second highest Super Bowl Opening weekend, at the time, behind Hannah Montana/Miley Cyrus: Best of Both Worlds Concert Tour ($31.1 million). The film grossed $145,000,989 in the U.S. and Canada, and $81,829,579 overseas, for a worldwide total of $226,830,568.
Home media
Edit
Taken was released on DVD in May 2009. As of March 2011, 4,426,766 copies of the film had been sold generating US$68,544,181 in sales.
In Popular Culture
Edit
The twentieth episode of the tenth season of Family Guy entitled "Leggo My Meg-O" is based on Taken. In "Brian's a Bad Father," Brian mentioned that having Zooey Deschanel be casted as the daughter in Taken would be thinking outside the box. There is a cutaway where Bryan Mills (reprised by Liam Neeson) is instructing the kidnappers to send him the head of Zooey Deschanel. Also Peter Griffin said the same speech but vice versa.
Taken is referenced in the John Sage song "Come With Me (I'll Be Your Liam Neeson)" with the line "If you ever get taken/I'll be your Liam Neeson".
In Season 5 episode 16 of the TV series Castle, when Richard Castle's daughter Alexis is kidnapped and taken to Paris, Castle follows and Det. Kevin Ryan asks, "Who does he think he is, Liam Neeson?"
A Saturday Night Live opening sketch in March 2014 featured Liam Neeson reprising his character from "Taken" in response to Vladimir Putin's invasion of the Ukraine and in defense of President Obama.
Main article: Taken 2
In November 2010, Fox officially announced the production of a sequel directed by Olivier Megaton. The film is scheduled to be released in October 2012. Neeson, Janssen, and Grace have signed on to reprise their roles from the first film. Filming began in October 2011.
Community content is available under
CC-BY-SA
unless otherwise noted.