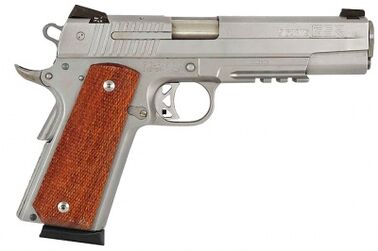 The SIG Sauer GSR
("Granite Series Rail") pistol is a 1911-style pistol produced by SIG-Sauer.
It was used by a bodyguard and later Bryan Mills in Taken.
The GSR has a stainless steel frame and slide M1911 clone produced by SIG Sauer. The SIG Granite Series was awarded the 2004 Handgun of the Year Award by the Shooting Industry Academy of Excellence. It is entirely made in the USA, from American parts.
Chambered for the .45 ACP round, some GSR models have an accessory rail that can be used to mount a variety of different tactical lights, lasers, or just about anything that can accommodate a Picatinny rail. Standard models have a 5" barrel and 4.5-pound single-action trigger. The GSR is reported to have produced range results of a 1.5" group at 25 meters. The GSR also comes in compact and carry models and various sight options are available.
SIG offers choice of a stainless steel finish or a Nitron dark finish, or even a two-tone Nitron and stainless look also available.