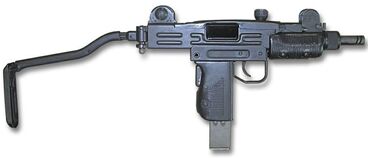 The Mini-Uzi is a smaller version of the famous regular Uzi submachine gun.
It was used by bodyguards in Taken and mobsters in Taken 2.
History and Design
Edit
The compact Mini-Uzi was first introduced in 1980. The Mini-Uzi is 600 mm (23.62 inches) long or 360 mm (14.17 inches) long with the stock folded. Its barrel length is 197 mm (7.76 inches), its muzzle velocity is 375 m/s (1230 f/s) and its effective range is 100 m. It has a greater automatic rate of fire of 950 rounds per minute due to the shorter bolt.
The Uzi uses an open-bolt, blowback-operated design quite similar to the Jaroslav Holeček-designed Czech ZK 476 prototype and the production Sa 23, Sa 24, Sa 25, and Sa 26 series of submachine guns, by which it was inspired. The open bolt design exposes the breech end of the barrel, and improves cooling during periods of continuous fire. However, it means that since the bolt is held to the rear when cocked, the receiver is more susceptible to contamination from sand and dirt. It uses a telescoping bolt design, in which the bolt wraps around the breech end of the barrel. This allows the barrel to be moved far back into the receiver and the magazine to be housed in the pistol grip, allowing for a heavier, slower-firing bolt in a shorter, better-balanced weapon. The magazine in the pistol grip allows for easy, swift reloading in the dark and is a signifigant advantage. 
The weapon is constructed primarily from stamped sheet metal, making it less expensive per unit to manufacture than an equivalent design machined from forgings. With relatively few moving parts, the Uzi is easy to strip for maintenance or repair. The magazine is housed within the pistol grip, allowing for intuitive and easy reloading in dark or difficult conditions, under the principle of "hand finds hand". The pistol grip is fitted with a grip safety, making it difficult to fire accidentally. However, the protruding vertical magazine makes the gun awkward to fire when prone. The Uzi features a bayonet lug.
Since its release, the Uzi is often thought of as one of the best submachine guns in history.