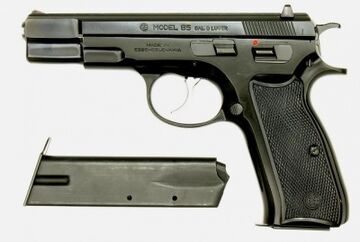 The CZ 85
is a semi-automatic pistol chambered for 9x19mm.
It was used by a mobster in Taken 2.
It was manufactured in Czechoslovakia (now the Czech Republic) by Česká Zbrojovka. It is an updated version of the CZ 75, and has slight changes made to internal parts to increase reliability, and has an ambidextrous safety switch and slide stop, making the pistol suitable for both right- and left-handed shooters. The magazine holds up to 16 rounds. CZ weapons are known for their long service life and high reliability while using various types of cartridges.
The CZ 85B is an up-to-date version with a firing pin block safety, squared off trigger guard, a ring hammer, and tri-dot sights. It is available in 9mm and .40 S&W calibers.