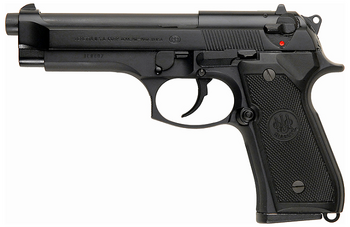 The Beretta 92FS is an Italian pistol chambered in 9x19mm.
It is Bryan Mills' weapon of choice throughout Taken and Taken 2, even being seen on the posters for the first two films. In Taken 3 Bryan seems to prefer a P226, but still uses a 92FS in the film's climax. Overall, the 92FS is the main weapon seen in the entire franchise. In the second two films, Bryan uses a Beretta 90Two (an updated 92FS) prominently, even having a 90Two in his personal gun case at his hotel room.
The pistol is mostly made of metal, and therefore has quite a weight to it, weighing around 33.3 ounces, unlike other polymer-framed pistols, like Glocks. The pistol features a squared crescent-shaped trigger guard for easier aiming, an ambidextrous safety lever located on the slide and an external hammer. The gun's barrel may be the most unique part of the gun, however, as it is exposed, allowing a 180 degree window for a casing to escape, nearly eliminating the possibility of a casing getting jammed in the chamber. The pistol is chambered for 9x19mm parabellum (9mm) cartridges in a fifteen round double-stack magazine. The gun has an effective range of fifty meters and a muzzle velocity of 1,250 feet per second. The blued stainless-steel slide is coated in a corrosion-resistant material called Bruniton. The Beretta 92FS has a double-action/single-action trigger, similar to a SIG-Sauer P226.
One of the most interesting and unique features of the Beretta 92 is its exposed barrel, which allows for less of a chance of a jam. Other pistols like the Glock or 1911, have a hidden barrel, cloaked underneath the side, with the ejection port on one side of the gun. This allows for an easy jam. The Beretta 92's exposed barrel allows for easy cooling. The Isreali IMI Desert Eagle large caliber pistol also features this exposed slide feature. Both pistols also feature the barrel locked in place, unlike most other pistol barrels, which are not held down and can move very easily. When the slide locks back, the barrel is held in place by a loop on the frame, so it won't move and risk the possibility of falling apart. The exposed and locked barrel is one of the most attractive features about this gun to veteran and beginning shooters.
The 92FS has been tested by the military and has fired 168,000 rounds without a malfunction. The average 92 can fire over 35,000 rounds before the slide stops working properly.
Community content is available under
CC-BY-SA
unless otherwise noted.